Comforts of Home Care Associates Provides: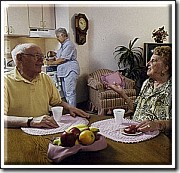 Free Initial Assessment.
24-hour Service Daily.
Affordable Rates
Same rates - days, nights, weekends.
Supervised Care.
We bill qualifying insurance companies for you.
A continuing education and training program for all employees.
We will even care for your pet - if you can't!
We understand that managing a home when you're ill can be difficult, and our support staff can assist you in maintaining your household.